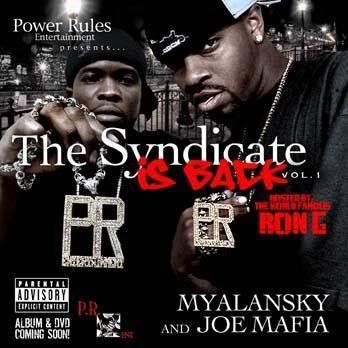 _
01: Intro
02: Tecks, Money & Murder
03: Goodfellas
04: Jsus
05: 12 or 6
06: Spread the Word
07: C ? I C
08: Notorious
09: Lutunza
10: The Interview
11: Usual Suspect
12: Wig Splash (feat. Raekwon)
13: Gamble
14: Cali What's Up
15: Damn
16: Scarfaces
18: Metropolis
19: Juice
20: That's How It Is
21: Jooks
22: Block of Horrors
23: D.O.C.
24: Womb to the Bomb
25: Fahrenheit
26: The Border
_
Re_upload ahora ripeado por nuestro selllo WSS, Para todos nuestros usuarios, esperemos lo disfruten vale recordar no borrar las 00 files, ahora hablando del disco Que Puedo decirle, No era lo que esperaba, de Hecho este es el mixtape el Album vendra pronto pero no se, no estyo satisfecho, hay un par de temas que si me llenan y me hacen recordar el wu-syndicate de hace 9 años, pero no es lo mismo, tiene de todo, hasta ese tipico mierdero sonido dirty south que les esta dando por hacer a todos los de la wu-fam ultimamente! en realidad el mixtape es shit!, recomiendo los tracks: 12 or 6, Spread the Word, the interview, Lutunza, Farenheit & Metropolis (tracks remontados), Talk Dollars, el resto es CACA
,
Este Mixtape fue colgado por Wu-International.com, hace 4 dias de forma gratuita por la gran demanda que habia sobre ellos, por el largo tiempo que estuvieron fuera de la escena musical, fue realizado en el 2007, se sabe que napoleon no aparecera, ya que tiene unos disses con myalansky,

The Syndicate (Myalansky and Joe Mafia) formally known as Wu-Syndicate has exclusively joined forces with Wu-International to released the highly sort after, rare, and out of print classic mixtape "The Syndicate Is Back" for free download to the fans due to popular demand.
This classic mixtape was released on the streets in 2007 to mark the return of Myalansky and Joe Mafia, who have been on a musical hiatus for a some of years since they debuted on the chart with their self titled album in 1999 on Wu-Tang records. The mixtape is jam packed with great beats, ingenious rhymes and original story line, nothing less expected from the duo. Check Myalansky and Mafia trading ill verses on "Jooks" and "The Interview" covers a personal account of the reasons the group stop making music for while and history behind it. Another favorite is "12 or 6" which sees Mya addressing what it takes to lock him lyrically or in person, songs is a straight up mic slaughter on this. Wu-Tang fans would rejoice to see a reunion of The syndicates with Raekwon on "Wig Splash".
http://rapidshare.com/files/188361214/Wu-Syndicate-the_Syndicate_is_Back__Hosted_by_Ron_G___Mixtape_Web_-2008-wss_int.zip